Jim travels from Melbourne Australia
Contact Jim directly for booking availability and fee information
Contact Jim
Phone =61 435 931 691
Email for more information  
Connect and Inspire
Genre Coaching — Life skills, personal growth, health and fitness
Approx Duration — 40 minutes
Audience Sector — Contextualised – for both Secular or Christian audience
Age Group — Suitable for Adolescent and Men's Groups
Ministry for Men's Spiritual Growth
Genre Teaching — Spiritual Identity, Spiritual Warfare, Spiritual Federal Headship of Marriage and Family
Approx Duration — 40 minutes
Audience Sector — Tuned in for men with addiction issues of all types.
Age Group — Suitable for Young Men and Men's Groups
Partnering with Endless Horizons Inc
Find out how Endless Horizons was established, it's unique point of difference, and the plans for future growth and development
Approx Duration — 40 minutes
Audience Sector — Suitable for both a Secular or a Christian Setting
Private Mentoring and Coaching Engagements  
Jim can be engaged on a Fee for Service basis, where there are rescources to support the engagement.
Endless Horizons Inc is the recipiant of these fees and donations and they go to support acess to these services by people who are disadvantaged.
Endless Horizons Counseling Suite
Level 1, 390 St Kilda Rd
Melbourne VIC 3004
Australia
jimmangioros.com Registered Office
Level 1, 390 St Kilda Rd
Melbourne VIC 3004
Australia
Group Coaching - Ministry Teams
Ministry and Volenteer groups can benifit from the wisdom and lived experience that Jim can provide to futher equip you ministry and outreach teams. 
Group Coaching - Youth and Young Adults
Working with groups of Youths, Young Men who need encouragement and lived, real life  experience Jim bringscandour and authenticity to  both empower and inspire  change
Relationship Coaching
Jim & his wife Neda have a passion for people & believe in the institution of marriage.
Building on Christian Principles, Jim and Neda have provided Pre-marital & Marriage Coaching as a team for over  for over 15 years. 
Helping couples understand Covenant Commitment,  deepen their communication strategies and develop lasting emotional intimacy.  
Personal Coaching
Live the life you want to have. Maximise your potential. Learn about your personal resilliance, creating goals, measure them and be accountable.
Jim aims to position his clients to get the very best out of their opportunities and enable them to make their own decisions for their own personal growth.
Personal Mentoring
When Jim takes a troubled person under his wing, he tells them, "Don't forget, I'm always here for you. We are family, and friends for life".
Jim's experience and his triumph over personal struggle give him the empathy & compassion to help others turn their lives around.
Speaking Engagements
If you want your Event Speaker to reveal to your people how to welcome Crucible Moments, then Jim will not disappoint.
Jim is a leader in her field and well respected amongst his peers. He is comfortable speaking on the Corporate stage, working with Ministry leaders and transformational Trainers.
Jim brings a compelling dynamic of having been on both sides of the track and has spent the last 20 years using those experiences for the benefit of others.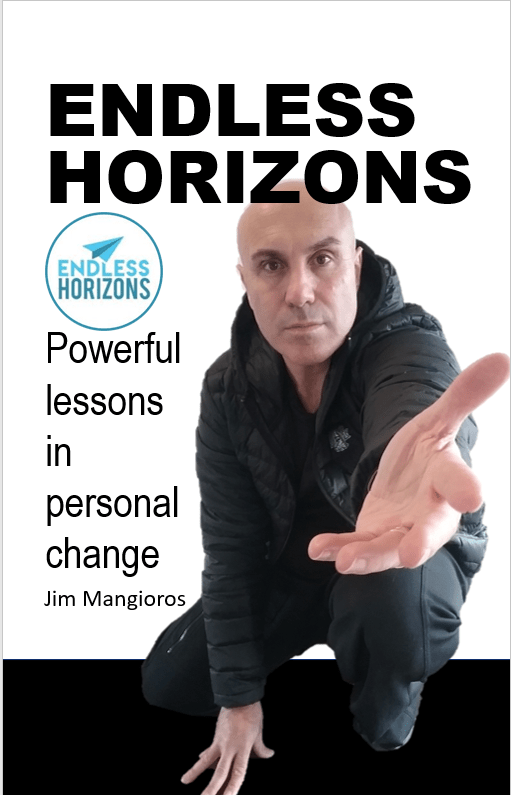 POWERFUL LESSONS IN PERSONAL CHANGE
JIM MANGIOROS
Not your average Bio … Jim's delightful reminiscence of his loving family in the heart of the Greek diaspora of Melbourne's northern suburbs,  quickly descends into hedonisim!
Endless Horizons follows the "riches-to-rags-to-riches" story,  and is the remarkable work Jim has developed (with his wife Neda), giving people a helping hand out of addiction — providing hope and a view of the Endless Horizon.